"Train up a child in the way he should go: and when he is old, he will not depart from it."
Proverbs 22:6
CRAFTS REINFORCE BIBLE TRUTHS
Easy, field-tested VBS crafts reinforce what kids are learning each day, and hands-on science experiments make apologetics fun!
SNACKS FUEL KIDS' FAITH
Delicious themed snacks also serve to reinforce what children are learning day by day in our VBS.
LESSONS LEAD LITTLE ONES TO GOD
Bible lessons led by the Pastor himself.  The pastor will answer questions and share the lesson prepared for the theme of the camp.
SONGS BOOST BIBLE MEMORY
Upbeat, catchy songs keep kids singing God's Word long after VBS! We choose from contemporary or traditional music.
GAMES ENERGIZE BIBLE LEARNING
Fun, faith-building games tie in with each day's VBS lessons. Kids have a blast while learning key Bible truths.
MISSIONS WITH FEED THE POOR
This last year our kids worked together to raise funds to purchase goats for people in Haiti.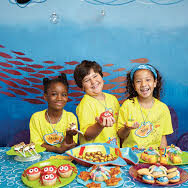 As an example of what we have done in the past, we used the SUBMERGED curriculum and the kids loved it!  Every year is different and up to the VBS director to decide on a theme and program.
FINDING TRUTH BELOW THE SURFACE
The kids Prepared to embark on an adventure like no other, scouring the mysterious fathoms of the deep sea. Thrilling discoveries awaited them just beyond the portholes of their submarine. Things look very different once they got below the surface - and that's true for life above the surface, too.
As kids submerged themselves in God's Word, they discovered that Jesus saw people differently. He didn't just see what's on the outside; He saw who people were down deep.
As kids learned to see themselves and others as Jesus saw them, they realized that everyone needs a Savior - even those who look like they have it all together. A relationship with Jesus Christ changes everything! All you have to do is dive in!
The Women's Ministry provided each child a shark bag filled with activities and we all tie dyed shirts to wear on the last day.
Our
Bible Verse
Search me, God, and know my heart; test me and know my concerns. See if there is any offensive way in me; lead me in the everlasting way. Psalm 139:23–24